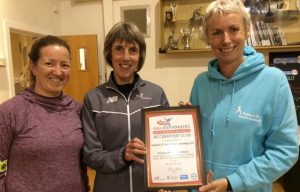 Clubmark is a cross-sport quality accreditation for sports clubs operated by England Athletics.
Brighton & Hove Women's Running Club has seen their membership increase considerably over the last couple of years and now provide numerous activities for a wide range of abilities and aspirations for over 150 members. Offering social running as well as training for participation in races from 5k events to ultra runs, the club is a hive of activity and friendliness. Organisation is key and the club epitomises this.
Being one of only a few clubs nationally, and the only club in Sussex with the adult running club accreditation of Clubmark, BHWRC has been setting the pace in their own way.
On completing the Clubmark journey, Clubmark Coordinator Carol Grant commented, "Going through the Clubmark process made us take a fresh look at everything we do, from looking after the safety and welfare of our members, through to providing a variety of training options and making sure we are as inclusive as possible. Getting the accreditation has been a huge accolade and everyone feels really proud to be meeting the RunTogether standards for an effective, well run club."
March 2018